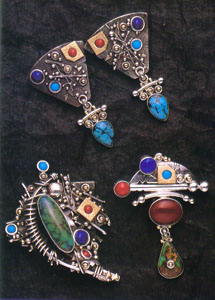 Eugene Nelson leans to the architectural, the expertly engineered in his jewelry creations, as these examples show. Each piece of his "constructions" is intricately designed and executed so that dangling parts remain equally spaced, as well as remaining untangled when worn.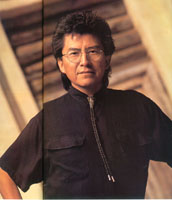 Eugene Nelson sports one of his bolos, which he calls his Signature Bolo, in this portrait outside the Wheelwright Museum in Santa Fé. He says this bold, yet simple design features clean lines while also having interesting details such as the wire, gold beads and rice paper texture on an oxidized background.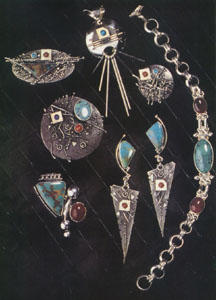 Eugene Nelson creates a variety of pieces. At the top, his Double Disc pendant of sterling silver, 14K gold, Sleeping Beauty Turquoise. Note the dangles that flare out and move freely when worn. Other pieces shown include a Melt Down pin and earrings and his Squiggle pin (bottom right). At the far right is his Chain Bracelet of sterling silver featuring 14K gold accents and Chinese Turquoise.

Nelson's popular Galaxy pin showcases a mix of stones including Turquoise Mountain turquoise, Oxblood coral, Sleeping Beauty turquoise and lapis. The high buffed surfaces with smaller components of stones and gold offer balance to the arc effect of the triangle wire.
The Melt Down Series includes a bolo,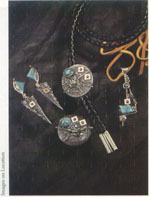 pin and earrings. At far right is a Structured Space Pendant on buckskin leather. Small components of fine stones and gold beads add to the sculptural, three-dimensional quality of the piece.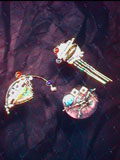 A Galaxy Pin, Melt Down pin and Storm II pin exemplify Nelson's diversity in contemporary style.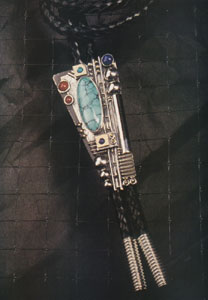 This one-of-a-kind bolo, created for a client in California, features sterling silver, 14K gold, Chinese turquoise, Oxblood coral, lapis and Sleeping Beauty turquoise. Surface textures and oxidation of the metal add to the three-dimensional quality of this specialty bolo.
---
L. Eugene Nelson in the workshop.