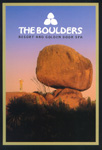 With every nook and cranny of the Boulders and its surroundings permeated with the creative spirit of Native Americans, it's no wonder that the resort and outlying communities have become a have for Indian art. Whether crafted by Native Americans or inspired by their cultures, artwork in this genre is rooted in tradition while striving for originality. "Native American tradition is a major force, and some of the most exciting innovations are coming from our Native American artists," says Blue Sage Gallery owner Susan Totty. From Eugene Nelson and Gibbs Othole to C.J. Wells, artists working with Native American subjects create splendid works that echo the majesty and magnificence of the Southwest and its indigenous peoples.

Splendor in the Desert
Native American Arts
By Kevin Sheh, Kara Sheh, and Samantha Ruckman
L. Eugene Nelson
Most art aficionados believe intricacy and abstraction are mutually exclusive. However, master metalsmith and lapidartist Eugene Nelson shows that a Native American artist can push the creative envelop while honoring his tribe's traditions.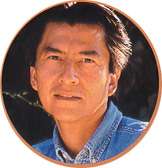 "Many of his abstract designs draw on his Navajo heritage - and it is always fascinating to have him explain what lies inside a design," says Blue Sage Gallery owner Susan Totty. "He is a part of a select group of contemporary Native American jewelers whose work is immediately identifiable without having to inquire who the artist is."
Nelson, an Alburquerque resident, studied engineering, geology, drafting, and mechanical drawing - traditionally left-brained pursuits. Nelson developed a unique "sheet and wire construction" process for his jewelry, which highlights the use of lines, angles, surface textures, and the shadowing effects of oxidation without cast parts. Surface texturing is produced by etching, engraving, surface imprinting, reticulation, and granulation processes. Nelson's mechanical skills have helped make his Navajo jewelry into some of the most sought-after Southwestern art.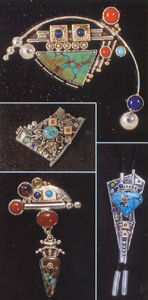 "The sheet and wire construction process, all handmade, allows me to use my mechanical and architectural drawing background to design a three-dimensional, geometric - sometimes free-form - sculptural piece of art," Nelson says. "Being self-taught has allowed me the freedom to design without boundaries that might otherwise be present."
Nelson's "Melt-down/Wire-wrap" series reflects contrasts of light and dark and rough and smooth surfaces. The initial design begins with overlapping silver wires that are heated and fused together. The challenge: Nelson says he has less control over the exact design outcome, which has a three-dimensional, sculptural effect.
His "Structured Space" series of sculpture utilizes square wire and twisted metal strips, but relies on the lack of solid material - negative space - to form the visual contours of the work. "My goal", says Nelson, "is to produce works of art that are highly individual and distinctly my own." Eugene Nelson's work is on display at the Blue Sage Gallery at el Pedregal Festival Marketplace at The Boulders, (480) 488-1292