Jeweler orbits the outer limits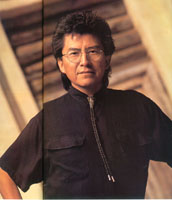 by Emily Drabanski

Similar to shaping his straight-edged, yet elegantly balanced geometric jewelry designs that defy categorization, L. Eugene Nelson enjoys working on the cutting edge of the contemporary art world.
His finely crafted pieces, which sport such titles as the Star Wars, Melt-Down and Structured Space series, continue to garner recognition from museums and collectors --many who first discovered his work at the Santa Fé Indian Market. His jewelry features silver and gold work that he designs, constructs and shapes often punctuated by fine pieces of turquoise, lapis and coral.
Nelson, who only began to grant interviews this past year, speaks with eloquence and conviction about his art during an interview at his home in Alburquerque. The home is simple, yet carefully appointed with beautiful paintings and pottery by Native Americans. Two large, contemporary family portraits show Eugene along with his wife, Vickie, and three daughters, Nicole, 14; Joselyn, 10; and Alissa, 6.
Nelson, who styles his jet black hair in a contemporary cut, is the first to acknowledge his Navajo heritage. But he'd like people to take him seriously as a contemporary artist, who happens to be Native American.
"I'm the first to admit that being Native American has helped me in the art world," Nelson says. He says shows such as the Santa Fé Indian Market, Eight Northern Indian Pueblos Arts and Crafts Show and the Heard Museum Guild Indian Fair and Market gave him the vital contacts he has in the art world today. These shows still are important to him, but he says more than winning prizes he enjoys his contact with his customers and their feedback.
"I just say that I'm an artist. I don't even say that I'm a silversmith or goldsmith. I don't have that type of technical education or training," Nelson says modestly of his work, which exhibits an extraordinary amount of precision and detail.
The 42-year-old artist credits much of his commitment to detail and precision to the work he did in his mechanical drawing classes from the seventh grade through high school and architecture classes in high school.
In high school, Nelson excelled in cross-country distance running and track. He lettered in both sports and was named to the all-state teams. This coupled with his excellence in academics led to offers for college scholarships.
"I was at an age when I said I'd just like to do my own thing for awhile and see what happens. So I didn't go to college then," Nelson says.
In the fall of 1973, he took a mechanical drawing class at the Southwest Indian Polytechnic Institute, but felt unchallenged repeating techniques he'd already mastered in his younger years.
"In the summer of 1974, a friend since grade school and a fellow West Mesa High School graduate, Charlie Platero Jr., a Navajo from the Caņoncito Navajo Reservation, introduced me to the basic skills of silversmithing. As far as I can recall, Charlie's dad had been one of the few silversmiths on the reservation prior to the big Indian jewelry boom of the '70s."
"The instructions were brief and may have lasted only a week, but watching Charlie and his dad work the metal with many of their own handmade tools impressed me. I was also impressed to see such talent and skill passed from father to son. This was my only experience and connection with the aspects of traditional Navajo jewelry making and although brief, I feel privileged and blessed for the experience. "Basically, what I had learned then is what I utilize today in my work," Nelson says. First, he says, was not to be afraid to "put the heat" to the metal (useful in controlling solder for clean connections and keeping defined details such as lines and edges). Second, he notes, was "to work" the metal by bending, twisting and shaping using the least number of tools (sometimes making his own) to ensure the development of his own style.
In 1975, he was offered a scholarship to the University of New Mexico and continued his studies, mostly geared toward engineering. He continued to dabble with jewelry making, while perfecting his soldering techniques.
"In 1980, I came across an article about Native American contemporary artists. And the work of a Hopi jeweler, Charles Loloma, impressed me the most because of his blending traditional design and mostly Southwest materials with a bold, contemporary style that was uniquely his own. This was exciting to me to see something other than the usual and marketable designs of the traditional 'Indian jewelry scene.' This was my first clue that the 'Indian jewelry craft world' was changing to an 'Indian art world.'"
Viewing Loloma's work inspired Nelson to design his own pieces. "I wasn't interested in creating or copying work that was like his, but I liked the idea of creating work that was uniquely my own."
Today, Nelson often speaks to young artists and encourages them not copy him, but to find their own style and run with it.
"The challenge is to create designs that no one else has thought to make. However, when you do become successful with your designs, then the challenge is to continue to be creative and not to be satisfied with your past successes.
Success did not come overnight for Nelson. In 1977 he left college to work in production at KOBTV (NBC) in Alburquerque. In 1980, after he got married, he went to KOATTV (ABC), where he eventually became supervisor of the editing department. "This type of work suited my personality. I had to deal with seconds and half-seconds in timing. It was quite comfortable for me because I'd always been interested in math, precision and detail."
What he didn't like about the work was that it kept him away from his family, as well as his growing interest in art. His shifts often kept him at the station until 2 a.m., while his wife was leaving for work a few hours later.
"In 1982, Irealized that I was really enjoying working on my art. I started to do more Indian art shows and was getting a good response. I still hadn't envisioned that I could make a living as an artist, but I knew I loved the work."
"It was at the same time I was following my faith and growing spiritually and I knew I did not want my children to be growing up without a father. I felt the Lord was starting to help me get ready for my new life."
Even though his work drew a good response, he decided not to just produce work designed to sell. "I really wanted to create my own work." And he found his original designs attracted a growing market.
His wife, Vickie, who is Hispana, encouraged him to become a professional artist, especially because it allowed him to be more involved with the family. She is a program manager at the Latin American Institute of the University of New Mexico.
Until that point he realized he had not been confident about making his living as an artist. Although, he says, when he reflects on his family's history, he sees a long association with the arts. His grandparents and extended family members, for instance, were weavers and potters. "My grandmother on my mother's side really influenced me. When I was young I spent most of my summers on the reservation at my grandmother's house. And she was a weaver."
Similar to many Native Americans, he struggled to find his place in two worlds. Until he was 7, he lived in Ogden, Utah, where his father worked for the government.
"I grew up with kids that were Hispanic, black and Anglo. We all 'just played together. I was growing up in the '50s and we all loved Westerns. And I know this sounds wild, but when we played 'cowboys and Indians' my brothers and I usually wanted to be the cowboys!"
He says he actually dealt with major culture shock when the family moved back to Shiprock. As a youngster, he felt isolated because he didn't know how to speak Navajo and struggled to be accepted by other Navajos.
While he values his heritage and still visits family on the reservation, he's comfortable living in Alburquerque. "I'm a people person and the reservation is wonderful, but it can get awful lonely out there," Nelson says with his characteristic grin.
His father, Tom D. Nelson, who raised 10 children along with his mother Virginia, became a Southern Baptist missionary not long after their move back to New Mexico. They continue as missionaries in Arizona.
He says his father's "leap of faith" from the security of a government job into the ministry has had a profound effect on his life.
One reason he also chooses to live in Alburquerque is because he and his family are active members of the Del Norte Baptist Church. "My art is important to me, but it's just a part of my life. My faith and family will always come first," Nelson emphasizes.
He respects other Indians who observe traditional Native American beliefs and asks for the same respect for his beliefs.
"So many Native American artists are trying to sell their art by telling the customers about some type of Native American spiritual belief. Some of those people hold those beliefs, but there are others who are doing it just to make a sale," he insists.
"I ask young people to know what their beliefs are and to be able to talk about them honestly." He chooses not to use any religious symbols in his own work and is straightforward about his philosophies with his customers.
He cautions against the heavy commercial influences that appear in some artists' work. While the feather once meant something special, he's afraid it's become a more commercial symbol like the ubiquitous howling coyote that once filled many Santa Fé shops.
So he continues to sketch out his original designs in pencil on his graph paper in his small studio. The play of light and shadows on city buildings, the way the light filters through the living room blinds, all influence Nelson in his playful designs that often seem part of a science fiction fantasy. He enjoys science fiction films that examine man's struggles with technology, such as Blade Runner.
"Being a self-taught jeweler/artist, and not having any of the major outside influences that usually occur through formal training or family trade involvement, has allowed me not to feel any obligations or boundaries in designing my work. However, living in the Southwest I cannot help but be influenced by the creativity of others.
"My approach is not simply to make jewelry, but to create art. Enjoyment and creativity are both necessary in this process. In designing, I approach my artwork as a three-dimensional object with details that only complement the overall piece. This allows me to highlight certain parts of the work without overdoing the piece and ending up with an ornate, and sometimes, gaudy appearance."
Today, he still works in a small converted utility room using many of the same tools from years ago. "Perhaps, because I had such simple tools it forced me to be more creative and precise in my work."
His thrifty nature has encouraged him to keep a drawer full of tiny scraps of silver. These scraps become integral parts of his Melt Down series and other constructed pieces. All of his work has a strong three-dimensional quality and some pieces actually have different designs on the front and back, so they can be worn in reverse. Others feature delicate silver dangles because he likes to create a kinetic effect when a piece is worn.
Nelson calls the Wheelwright Museum one of his strongest supporters. "Some galleries have a tendency to look at your work and try to control what you create. But I've been blessed because I've been told to go and do my own thing." Nelson also shows at Wright's Collection of Indian Arts and Southwest Contemporary Jewelry in Alburquerque, as well as the Museum of Northern Arizona in Flagstaff. He's also participated in shows at the Heard Museum and Museum of Northern Arizona, as well as the Institute for American Indian Arts in Santa Fé. He'll be back at Santa Fé Indian Market, August 23-24, sharing a booth with his brother Bennie Nelson, who paints under the name Yellowman. "My brother and I have a little bit of competition going," he says. "But I have to give him credit. He always said he'd be an artist from the time he was in the second grade. I was pretty cynical about it when he was serious about art in high school. But we're both now working as artists." Another generation seems headed in the same direction. Bennie's son, Ben Nelson, made the news last year when he presented President Clinton with a painting. Eugene says his daughters are starting to show an interest in art, as well as writing.
"I just continue to encourage them to explore and find out what they like about art," he says.
What lies ahead for Eugene? "My attitude has always been that my last piece has to be my best piece. But I'm constantly challenging myself. I'd really like to try my hand at sculpture next."